Is there anything more appealing in the automotive world than a cleanly built white on white car? Sure, we like wild and unique colorways as much as the next enthusiast. But seriously, a classic white on white colorway- done tastefully – on the right vehicle – is such a powerful sight. Case in point, Tommy Lee Schaeffer's 2008 Candy White VW R32. We couldn't help but take notice to this thing over and over again at events all summer long. So when he brought the car up to our KnoeDown event at Knoebels Amusement Park a few weeks ago, we told him that we had to schedule a shoot.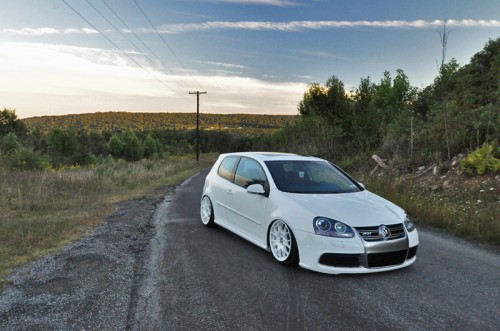 It's often hard to come up with a new, exciting location to shoot photos. But Tommy tossed out an idea that wasn't too far from him or our photographer, the infamous Nick Becker. And we thought, a military tactical training area in the mountains posted with signs warning us that civilian automobiles were prohibited? Sure. Sounds perfect! It's not like the car we'll be shooting is an attention grabber or anything. Nevertheless, we rendezvoused at sundown and weren't told to leave… and the pictures speak for themselves.
Tommy's been into just about anything that goes fast and sounds bad ass since an early age. He's owned a Mk4 1.8T GTI previously, as well as a Ford F-150 FX4 which he used mainly to haul his quad around to races and such. When he got out of racing, he decided he needed to own a race car to use as a daily whip to and from his Marketing job at CJ Pony Parts. Everyone knows that our brand are huge VW enthusiasts. So we must say we find it just slightly amusing (and awesome) that a marketing guy for one of the biggest and baddest Mustang parts companies in the US decided to drive a Volkswagen.
We've all been there before. You know, the daily driver that instantly becomes a project car. In a little over a year, this car has gone thru the standard build stages. First Tommy picked up a set of H&R springs. After a few months, he felt the need to upgrade to a set of budget coilovers. Those held him over for a bit… but then he couldn't resist pulling the trigger on a complete AirLift Performance set-up. And then of course he had to throw in the Accuair E-Level management with touchpad and rocker switch combo. During that same time, he's also added a bunch of bolt-ons to basically cover all the bases. To the point where the car is now at that go big or go home stage. And even if Tommy chooses not to "go big", it's certainly one bad ass daily driver.
The car sits on a set of timeless 18×8.5″ ET35 BBS CH wheels. Such a classic but impressive look. The wheels appear to be a perfect colormatch, but they're actually powdercoated with a Pearl Flair White color. That Ric Flair (woooooooh!) finish comes courtesy of our long-time friend Jason Diem at 4EverKustoms. Diemy has helped us with a ton of projects over the years and he nailed it once again on Tommy's R. We love a set of custom BBS RS's too, of course. But the R32 is motorsport influenced thru and thru, so BBS's motorsport wheel seemed to be the perfect choice for this build.
Despite what the internet tells you, there's more to a car than stance and fitment. Tommy made sure his car was putting max power to the pavement with a Forge Motorsport intake, ECS Tuning Noise Pipe Delete, Borla exhaust, and Unitronic Stage 1+ 93 Octance ECU tune – and topped it off with some Porsche 911 coolant and oil caps for that OG appearance. Then he made sure all that power was kept under control with ECS Tuning Geomet Coated Slotted Rotors and Stainless Brake Lines all the way around – along with Hawk Ceramic Performance pads under the calipers.
The white out colorway is continued after dark, with iJDMtoy – 6k HIDs, colormatched bumper side markers and Performance LEDs throughout the vehicle. The OEM dark cherry taillights finish off the clean look nicely.
We hope you enjoy this photo set as much as we enjoyed ripping around the windy mountain roads during the shoot. Most car builds do offer some form of learning moment. We asked Tommy what he's learned from building this vehicle. His answer. Shit ain't cheap. LOL. Who can't relate to that, right? Cheers!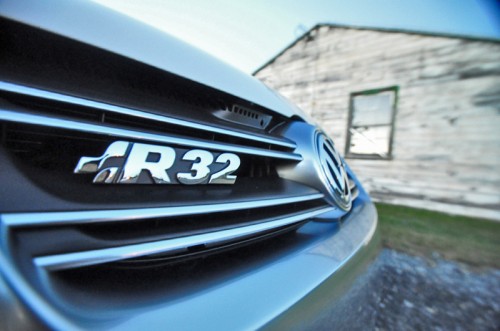 Tommy's shoutouts:


Want to thank my loving girlfriend Katelyn for always supporting my addiction

 to this madness. M

y entire family for encouraging 

me to have fun with my hobby. A huge thanks to 

Jordan Hoke at 

LowPro for always willing to lend a hand with multiple suspension installs! 

Ray, Bob and the guys at 

Wolfes

 VW, 

Jason at 4Ever 

Kustoms

, and 

Howie

 at 

HE Performance for coming to the rescue with the perfect welds for the rear air bags. Also, 

Sean 

Kivler

, Josh Smith, Joe Bailey and anyone else that's helped me along the way. I couldn't have done all of this without your help!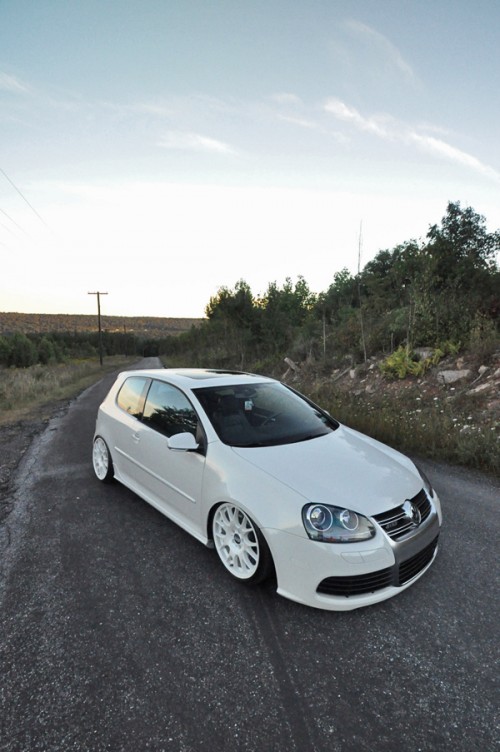 Additional Props go to: Lowprogear.com   4everkustoms.com    cjponyparts.com