As autumn arrives and the show/meet season dies down, we bring to you a feature car shot in a cool fall style setting. The homie Anthony Feliciano has come thru for us again. This Mk4 Jetta belongs to Tyler Smith and we think you'll enjoy it.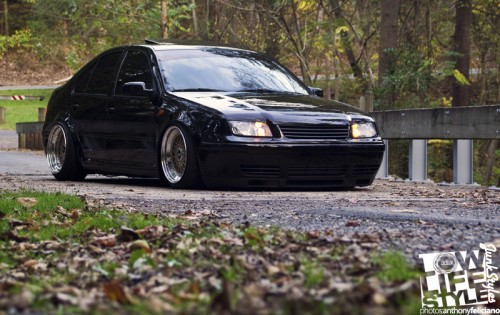 Tyler rocks the instagram name low_life_style. We're not sure if thats an homage to our brand or if it's just a coincidence. He's definitely living the low lifestyle though, so we'll take it as a compliment either way.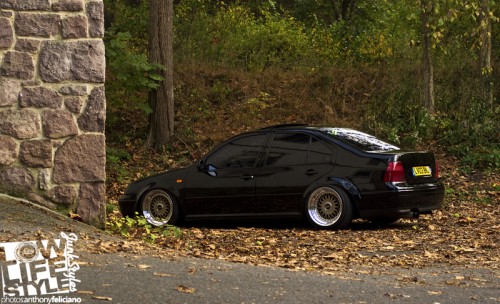 He's not one of those "low and slow" guys though, as this Jetta sports plenty of performance under the hood. Check his spec sheets for the details.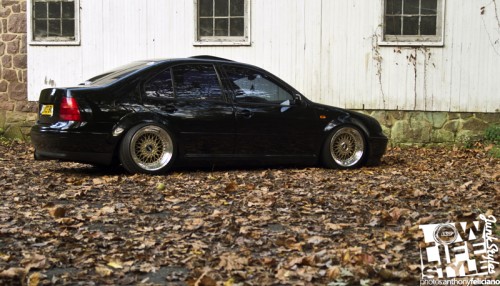 This year has been fun seeing back windows all up and down the east coast rocking our "scumbag." stickers. We never knew it would turn into such a movement.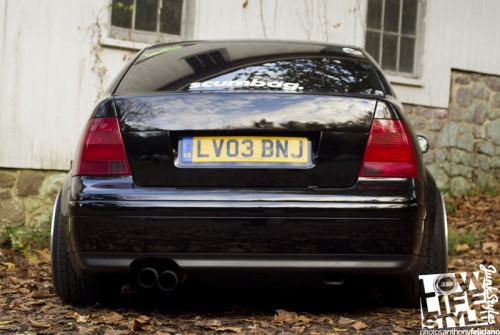 Custom drilled, flat-capped RS's look the business!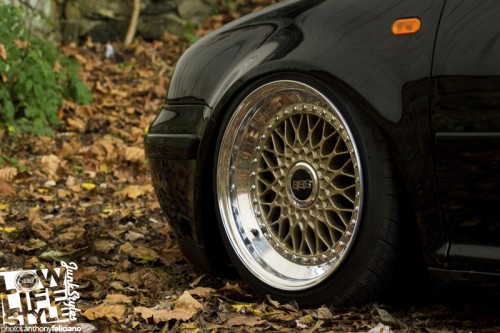 Tyler's interior retrim looks immaculate as well.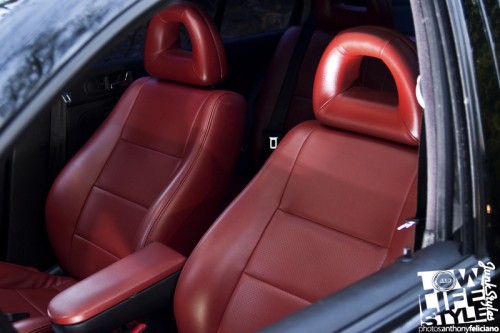 This car looks downright evil in this photo setting.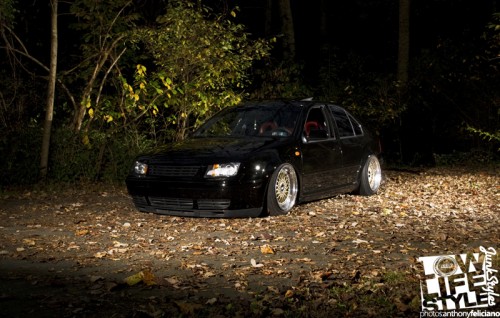 And we saved Mr Feliciano's best shot (in our opinion) for last. This one is cool the way they used some interior lighting to create the photo effect. Great job guys!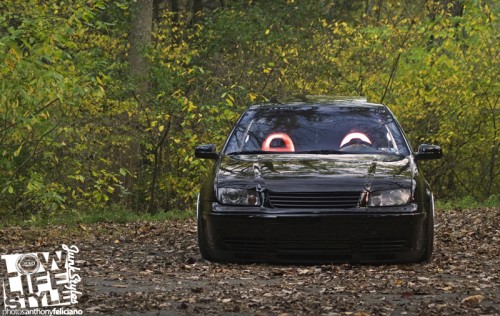 As you know, we like to keep these things short and sweet. But hopefully you enjoyed the photo shoot.Here is the lowdown on the vehicle:

2003 vw jetta gls 1.8t
5speed

Exterior:
Euro smooth rub strip
Shaved antenna
Angry boser
Shaved euro trunk
Custom retrofits by Rodgers retrofits
4motion front valence
Badge less grill (4 bar)
Resprayed corvette triple black
Bbs rs 17×9 2″ lips 17×10.5 3″ lips flat caps and redrilled

Performance:
Ko4 Eurojet race
front mount intercooler
2.5″ turbo back exhaust with gutted cat, deleted resonator, magnaflow muffler
Stage 4 fx400 clutch masters clutch
Ported intake manifold
Ported / punched head (.02)
Vf engineering mounts
Full emissions delete, sai delete, evap, Pcv delete
United Motorsports tune
Tt short shifter
42 draft designs stealth catch can

Suspension/Brakes:
Airlift v2 // slam xl air ride
Wilwood 4 piston big brake / drilled rotors (front).
Slotted drilled rotors ebc yellow stuff rear pads (stock calipers).
Braided brake lines Poly eurothane bushings everywhere

Interior:
New south boost gauge / Column pod
Pioneer flush mount head unit
Seat arosa headlight // hvac controls
Black headliner swap
Custom paprika red leather Gti seats with matching beetle headrests
Kicker 6″ door speakers
Kicker 12″ subs (2).
Kicker 1800 watt 4 channel amp
Kicker 2000 watt 2 channel amp
35 farad power cap
Gli center console
Paprika red armrest

Cheers!