With SEMA less than a week away, we thought it would be a perfect change of pace to feature a car that was built to the owner, Josh Deshong's taste. This RHD Prelude doesn't follow the rules of some of the over-hyped cookie cutter cars that most people are posting on the interwebz this week. The best part is the car makes over 325 hp on E85 fuel.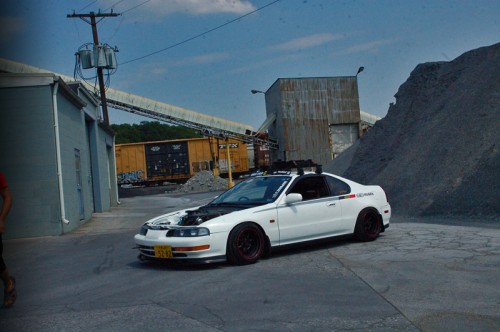 We originally shot this car back in the summer months. It was hot as sin that day. We held on to the photos because a national magazine was actually going to use them for a feature instead. But now we're tired of waiting – and it seems like the details might have fallen thru – so we're going to go ahead and do our part in an effort to make Josh an internet sensation.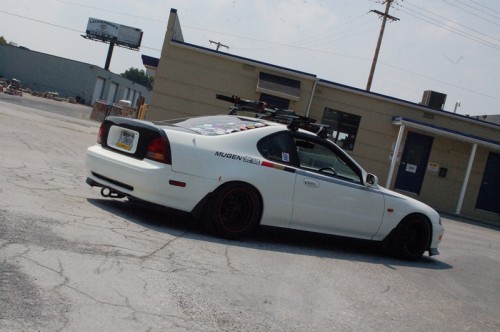 Josh has been going hard at it for years now and it shows. He's had the car for 12 years  but has been heavily involved in the car show game for 5+ years. This thing has just about every JDM option that was available on the 92 'Lude – plus a little touch of Josh's personal style. He reps the wrteam squad, who is like a sleeping giant in the industry – Still building cool cars, not really over-hyping themselves or getting involved in the politics of competition these days. He spent most
of this year chilling with us in our booth – and became one of our favorite people to chill with in 2011.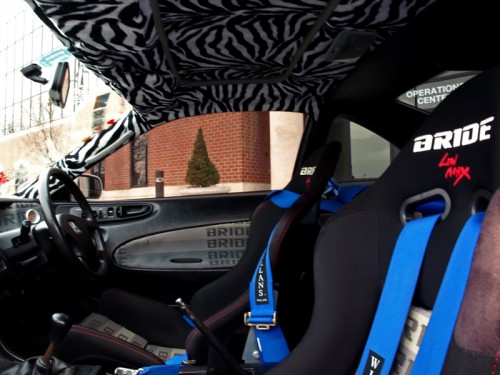 In addition to hitting up car shows, Josh enjoys fishing & hunting – but most of all spending time with his son Ayden and fiance Ashley. If you like the car, he might sell it to you. We know he's been on-again/off-again on the thought of letting her go. So hit him up, but only if you're serious. Nobody likes a tease.
Vehicle specs:
1992 Honda Prelude Si-R
body- Seibon carbon fiber hood and trunk, jdm window visors, jdm headlights, taillights, yellow jdm plate Mugen stripe, Yakima bike and snowboard rack and attachments and a matching bmx bike.
paint- 2006 Honda S2000 grandprix white
brakes- cross drilled & slotted rotors
wheels- XXR 15×8.5 stretchd on Kumho exta tires (limited edition flat black with red stripe)
interior- every jdm option from 1992 rhd conversion, Bride seats and interior gradation panels custom headliner, NRG harness bar
audio- Pioneer head unit, Sony speakers
performance- jdm h22a stock platform, 60 trim turbo, intercooler by SMax, slim raditor from Yonaka, 3″ inch straight exhaust from turbo back, tuned on Neptune and e85 car made 325whp consistent.
safety- Willans harness, and NRG bar
jdm parts-
power folding mirrors
rain visors
rear wiper
half antenna
tail lights
one piece headlights
bumper
all jdm dash lights and normal options
inspection
registration
parking permit
jaf towing numbers and decal
one of 1000 gear selector indicators and vtec light
Here's all of the photos. Enjoy: