This week we have some cool spy photos that came to us from the Toca Series camp in Chicago. We love Chicago- and we're always impressed by innovative builders. This tC has gone in quite an innovative direction. (Insert your favorite hip hop line about driving around town with the roof "peeled off"). John would like to give a shout-out to Gabriel Escobedo.
John Toca, and his Toca Series firm are putting the finishing touches on this tC Roadster this winter – and it may be coming to a showfloor near you this spring. With that being said, we don't want to reveal too much information. We just wanted to pass along these amazing photos taken by Kortnei Grace – Kortnei Brandon Photography.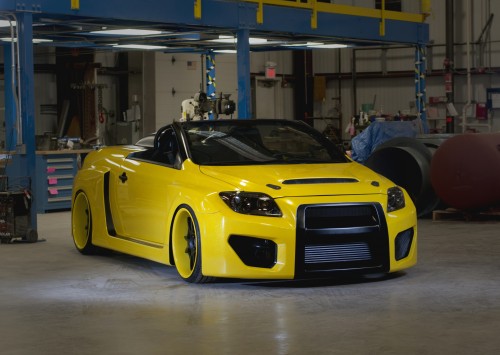 Take note of the rare RS*R wide body kit – as previously seen on Ken Gushi's drift tC. Hundreds of fabrication hours have gone into this project. Stating the obvious, they've cut the roof off the car – but they've finished that off nicely with attention to detail around the windshield and turtle-shell roadster back. Al Capone gangster ride height has been dialed-in via DPE wheels, Pirelli Tires, and Stance Suspension. The giant Vibrant Performance intercooler lends a hint of what you might find under the hood. We know what's under there, but we're not telling yet.
The Toca Series tC Roadster will debut at Tuner Galleria in Rosemont, IL on March 3rd – and will be stunting on LakeShore Drive all summer long hopefully.
For more info and a complete list of supporters for this project, be sure to check out johntoca.com