The R Miller Autobody x Mummbles Marketing x MoneyBaker Designs Chevy Cruze project is set to debut at the SEMA show in Las Vegas in moments – and it is our pleasure to give you a little sneak peek at the car.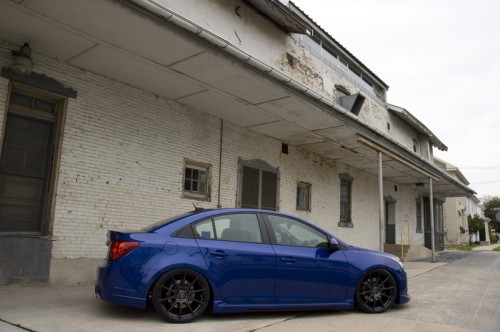 The R Miller crew are veterans in the vw/audi scene – but are excited about promoting the GM brand with this vehicle. They've teamed up with some proven SEMA champions. Mummbles Marketing was DUB Magazine's Top Builder of 2010 at last year's SEMA show – as well as earning Best GM recognition with their Camaro. MoneyBaker Designs was crowned best-of-the-best champion at last year's Scion Tuner Challenge -with a tC that R Miller performed a good bit of work on.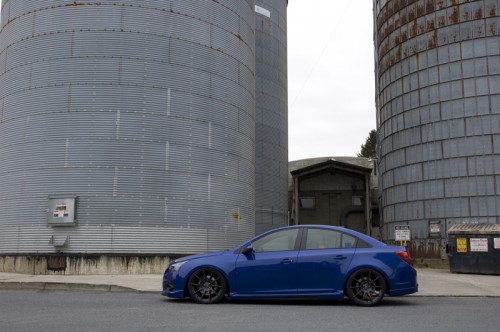 Over the course of the past six weeks, the team was able to mix their influences to create another clean and aggressive vehicle. The Cruze will debut in the Stewart Warner Performance gauges booth. HEPerformance fabricated a huge turbo upgrade system. Representing PA to the fullest.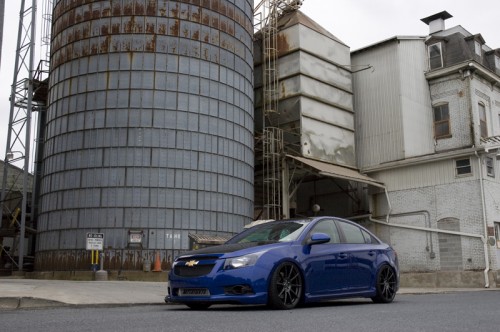 Photos courtesy of FindJut.com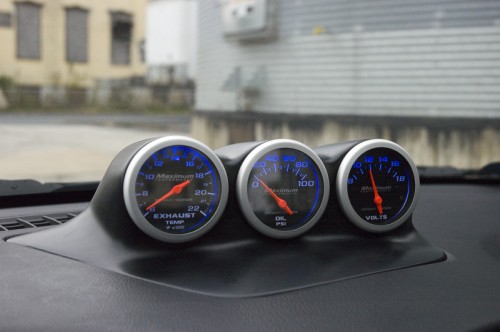 Vehicle Specs:
BASF Custom Blue Paint
Fiberglast/ R Miller "Wasp" Carbon Fiber Hood
Fiberglast/ R Miller "Wasp" Carbon Fiber Roof
Fiberglast/ R Miller "Wasp" Carbon Fiber Trunk
BMC "Predator" Lip Kit (molded to vehicle)
Front Lip
Side Skirts
Rear Lip (w/ Racemesh Grilles Insert)
R Miller Auto Wing
R Miller Exterior Accessories Kit (Paited Flat Black)
R Miller Custom Red Taillights
R Miller Tinted Fog Lights (w/ Xenon Supply 8000k HID Kit)
LightWurkz Headlights (w/ Xenon Supply 8000k HID Kit)
Racemesh Grilles Grill
Precision LED License Plate 8000K Kit
Shaved Side Marker
Norton Paint Supplies
Wheels & Tires:
20" x 8" Forgestar CF10 Wheels (Black Chrome Extreme Powder Coat)
Falken FK452 Tires (234/30/20)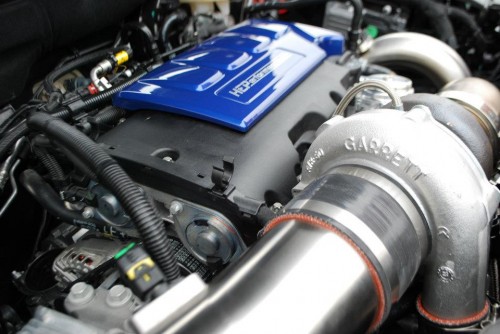 Performance:
HE Performance Turbo Kit
Turbo by Garrett – provded by Blouch Turbo
Tial Wastegate
HEPerformance Turbo Manifold
HEPerformance OBD2 DownPipe (Custom Fitted)
HEPerformance Billet Dip Stick End
Vibrant Blow Off Valve
Vibrant Intercooler Tubing
Vibrant Air Filter
Mishimoto Front Mount Intercooler
Mishimoto Intercooler Coupler
Magnaflow Custom Exhaust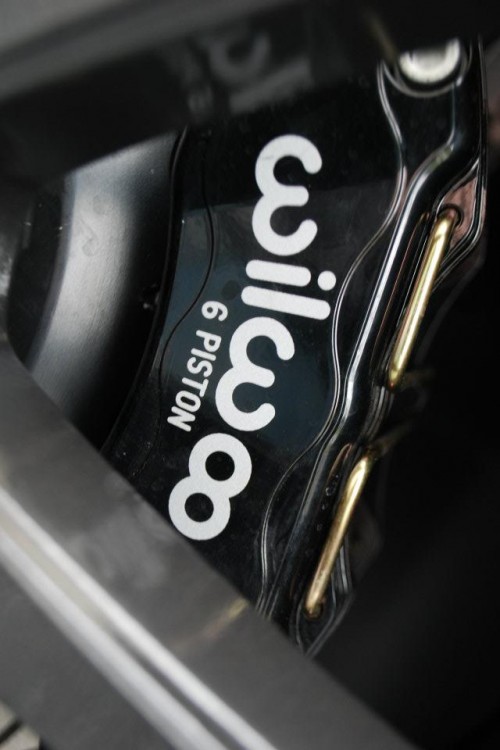 Suspension/ Brakes:
Pedders Suspension Cruze XA Coilovers
Wilwood big brake kit
6 Piston Brake Calipers (Front)
13" Slotted/ Drilled Rotors
4 Piston Brake Calipers (Rear)
13" Slotted/ Drilled Rotors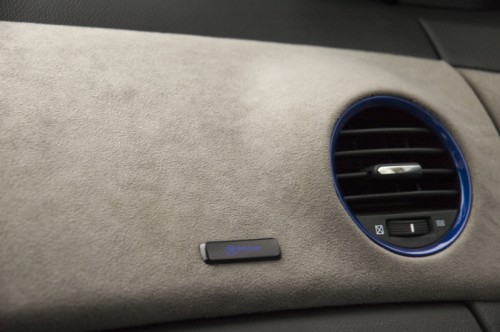 Interior:
Stewart Warner Gauges (custom mounted)
Boost Pressure
Shift Light
Oil Pressure
Exhaust Temperture
Volt
Katzkin Reupholstered Seat Kit (front and rear)
Katzkin Dash & Door Inserts Reupholstered Kit
R Miller Painted Dash Trim Kit
R Miller Speaker Rings Painted
R Miller Door Sills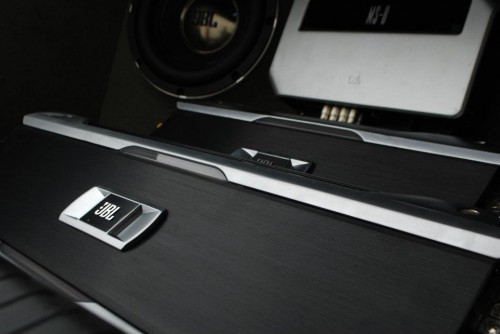 Audio/ Video:
2 – 10" JBL Subwoofers (W10GTI MKII)
2 – 5.25" JBL Components (MS-52C)
JBL 600 Watt Four-Channel Amplifier (GTO1004)
JBL 2400 Watt Mono Subwoofer Amplifier (GTO24001)
JBL 6" x 9" Speakers (GTO928)
JBL MS-8 Digital Processor
Lanzar Wiring and Accessories
10.4" Pyle Flip-Down Monitor (w/ DVD Player)
Kinetik 80 AMP Power Supply