We've known Donnie Hanna for quite some time. He had a Helios 16V GLI when he was fifteen years old. Now, many years later, he's a daddy – but that hasn't changed his love for cars and specifically vw's. Yeah, he drove an Eclipse for some time somewhere in the middle, but we won't hold that against him.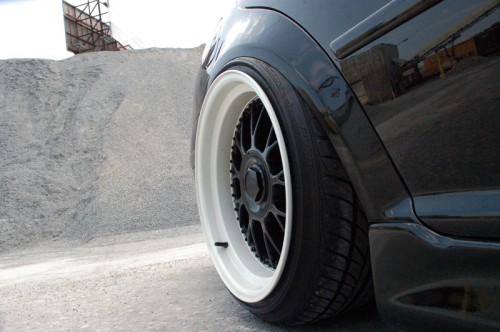 We planned a photoshoot for what we thought was going to be a convenient, easy time – a couple hours before a night time car show that we all planned on attending together. But lemme tell you, we are rookies at this photography thing. Apparently the middle of the afternoon, the hottest point of the day, isn't the best time to be outside shooting photos. We've learned some great survival tips on various tv shows though so we knew we could handle it. No, we didn't pee on our shirts and tie them around our heads, we just took the photos as quickly as possible and got back inside his air-conditioned Mk4 Jetta 1.8T.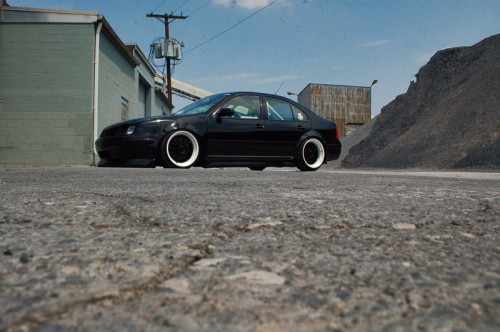 The thing we like about this car is – well it's done to his tastes. Yeah RS's and Rotiform BLQ's are cool wheels, but we don't have to see them on every VW at the shows do we? Anyway, Donnie recently hooked up with our pals at AirLift Company and installed a full air suspension set-up on the car… so we figured it was a perfect excuse for a photoshoot.
Enjoy!
Vehicle Specs:
Exterior –
Reiger Gti Front lip Shortened to fit Jetta Bumper (Jay leno chin)
Custom front bumper with shaved side vents
Euro rub strip
Depo Black housing headlights
Badgeless Grill
Custom Boser Hood
Shaved Fender markers
Rolled and Pulled Fenders
Smooth Side Skirts for a 4 dr Golf
Shaved Trunk Lid
Smoothed Rear Bumper lip
Interior-
Autopower Custom White Pearl Roll Cage
Suede Headliner
Plaid headliner inserts
Plaid A B C Pillars
Custom Suede and Leather Wrapped 03 GLI Seats
Leather Wrapped Beetle Headrests
Pioneer Avic Z110BT Double Din Deck With Nav
Autometer boost gauge
Autometer air fuel gauge
Suspension-
Easystreet Digital Airride Controller
Airlift Xl Front Shocks and Air Bags
Viair 380 Compressor
Anodized Manifolds
1/4″ Air lines
5 gallon 8 port tank
Rear Airlift Bags and Brackets
Front swaybar Delete
Ecs Tuning Big brake kit (12.3) Front
Ecs Tuning Big brake kit rear
H&R 8mm Spacers up front
Wheels And Tires-
Custom Pearl white lipped black centered Miro Stp-1
18×8.5 Front
18×10 rear